Warm-Up for Classroom Reports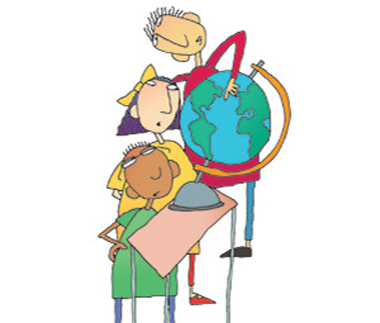 (c) Thoughtful Learning 2018
Reporters go to the scene of the action. They discover what's going on and investigate the situation. Once they have gathered enough information, they write a report. This unit asks you to play the role of a reporter in your classroom. You'll learn all about a special topic and write a classroom report about it.
What Is a Report?
Listen to "What Is a Classroom Report?"
Hide audio
A report shares important information about a topic. To learn the best information about your report topic, you'll need to investigate books, Web sites, and videos. You may even gather information from first-hand experiences. Then you'll organize your information and write a report about it. By sharing your report with classmates, you'll help them discover what's so special about the topic too!
In this unit, you'll read classroom reports about amazing geological places, such as the Great Salt Lake and the Grand Canyon. Then you'll write a report about another amazing place from our natural world.
Thinking

About What You Know

To write a report, you need to learn about your topic. You can look for information in books, on Web sites, and in other sources.

A KWL chart is a strategy for taking good notes as you read about your writing topic. Here's how it works.
The "K" column shows what you know. Work on this part before you read.
The "W" column shows what you want to know. Work on this part before you read, too.
The "L" column shows what you learned from a reading. Work on this part after you read.
The sample KWL chart shows how the parts fit together.
KWL Chart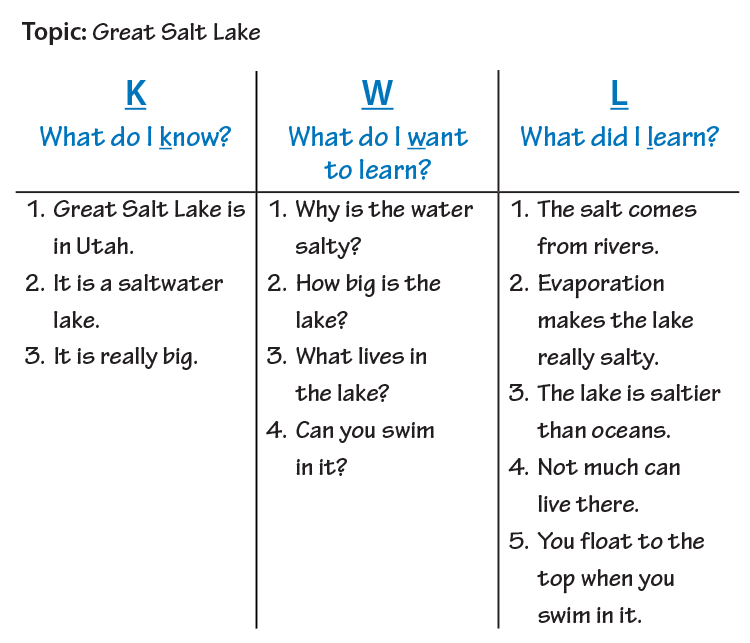 Fill in a KWL chart.
In the "K" column, write what you already know about the Rocky Mountains. In the "W" column, write what you want to learn. Then read the article and fill in the "L" column with what you learned. Make a copy of this Google doc or download a Word template.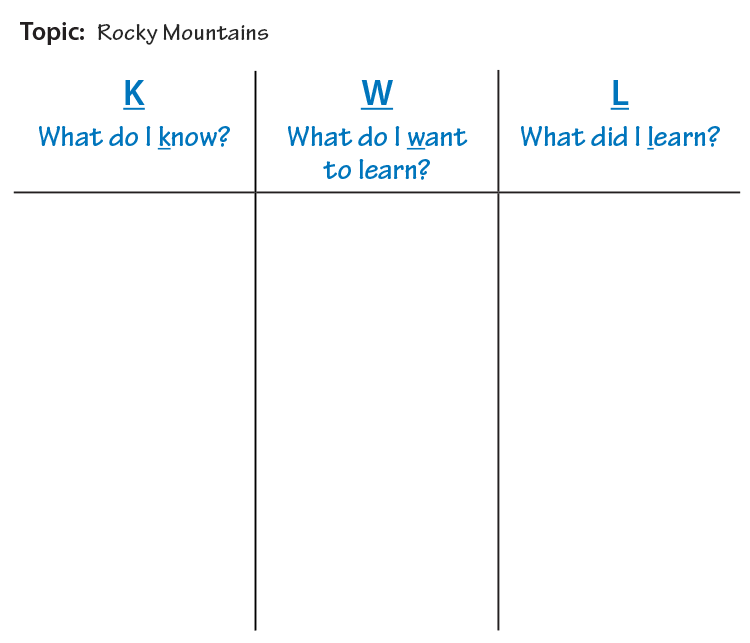 The Amazing Rocky Mountains
The Rocky Mountains stretch from central New Mexico to northwest Alaska. These snowcapped wonders are the "purple mountain majesties" in "America the Beautiful." Check out these amazing Rocky Mountain facts!
The Rockies are more than 76 million years old—young for mountains.
They stretch for 3,000 miles through seven states and two Canadian provinces.
With a peak of 14,440 feet, Mount Elbert in Colorado is the highest Rocky Mountain.
The Rockies form the Continental Divide: They separate which way rivers flow—west to the Pacific Ocean, south to the Gulf of Mexico, or north to the Arctic Ocean.
They are home to diverse wildlife, including elk, sheep, deer, moose, bear, bison, otter, and many more mammals, fish, and birds.
Teaching Tip
You may decide to use an alternative reading for this activity related to the specific project you are assigning.