Writing a Short Report
Once you finish prewriting, you are ready to start writing your report. This lesson's activities will help you write a strong beginning, middle, and ending. You'll also read another student's short report to see how to bring all of the parts together.
Writing

the Beginning Part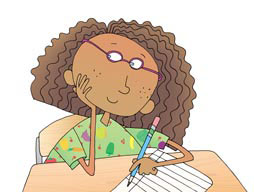 © Thoughtful Learning 2018
Your report should begin with a focus statement. The focus names the topic and gives a specific thought about what makes it special.
Specific topic: Casimir Pulaski Day
Thought or feeling: Celebrates the birth of a Revolutionary War hero from Poland