Warm-Up for Problem-Solution Essays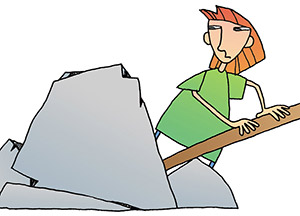 © Thoughtful Learning 2016
You might think of problem solving as something you do only in math class. In fact, problem solving is a part of all aspects of school and life.
Listen to "What Is Problem Solving?"
Hide audio
What Is Problem Solving?
To solve a problem, you first need to understand it. Then you need to think creatively to figure out ways to fix it. In this unit, you will write an essay that explains a problem in your school or community and offers a solution to it. Your goal is to make your readers care about the problem and want to be a part of the solution.
Thinking

by Brainstorming

When you face a problem, brainstorming can help you think of possible solutions. Brainstorming means opening your mind to all possibilities, even wild ones. There are no wrong answers. Record every idea that pops into your head.
Brainstorming
A group of students brainstormed the following list of solutions to a problem. Often one possible solution led to another. When they ran out of ideas, the group reviewed the list and starred their three favorite solutions.
Problem:
A local park is dirty, and people no longer visit.
Solutions: