Mindset plays a pivotal role in learning. Students who approach writing with confidence and enthusiasm are much more likely to persist through challenges than students who feel fearful and discouraged by it. Unfortunately, the latter category includes many students in our classrooms.
This year, let's nurture a positive mindset toward writing. But what classroom practices will help, and how can we measure progress?
Empowering Writers
To nurture a positive writing mindset in our students, we can incorporate some best practices into our classrooms.
Invite students to write about topics of personal interest.
Build choice into writing assignments.
Immerse students in examples of good writing.
Model effective reading and writing strategies.
Balance freedom and structure (by teaching the writing process).
Use minilessons to teach skills that writers can immediately apply.
Focus your feedback on solutions, not problems.
Be flexible about grammar and correctness.
Make time for reflection.
Point students to effective writing resources.
(Learn more about these best practices.)
Surveying Growth
To measure our students' evolving mindsets, we can use entrance and exit surveys, like the ones that follow.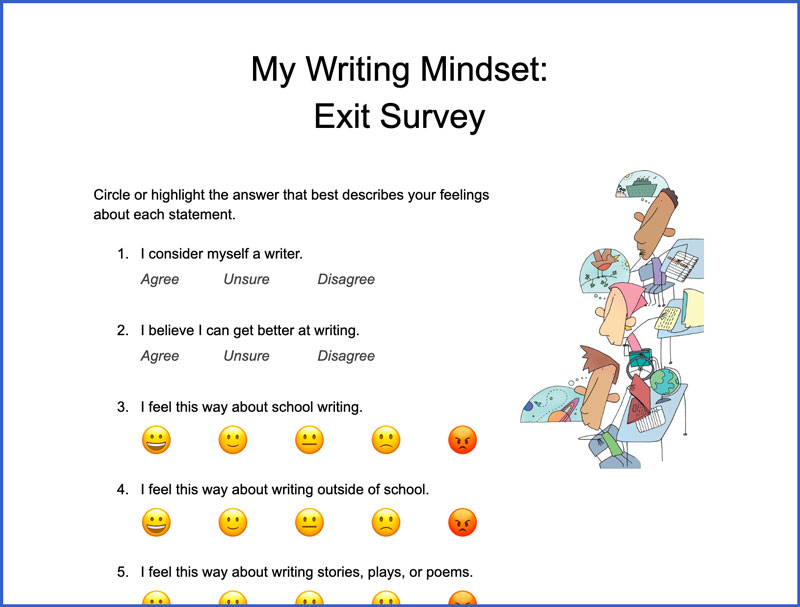 *Download the surveys as a Google Doc (Entrance Survey, Exit Survey) or pdf (Entrance Survey, Exit Survey).
You can use these surveys to bracket your writing instruction:
Administer the entrance survey at the beginning of the year to gauge your students' feelings about writing. Encourage honesty.
Analyze the results and tailor your instruction to meet students where they are and help them improve.
Ask students to complete an exit survey with the same questions near the end of the year (or quarter, term, or semester).
Return both surveys to students and have them reflect on the results. The surveys and written reflections make a fantastic addition to a writing portfolio.
Let's Hear from You!
What did you discover from your surveys? Anything surprising? Drop us a note at contact [at] thoughtfullearning.com. We'd love your feedback!