The last months of school go by in a flash. Writing prompts can help your students gather their memories of the year and prepare for what the summer holds.
These low-stakes activities also invite your students to see writing as a fun, meaningful, and—dare we say—joyful activity. The prompts help students honor their experiences and reflect on the school year.
My Top 10
Students create a Top 10 List for the school year. Topics can range from serious (Top 10 Things I Will Miss) to silly (Top 10 Worst Sounds at School).
Download the Full Prompt
Copy the Google Doc
Then and Now
In this prompt, students compare pictures of themselves now and when they were younger. Using the photographs as inspiration, they create journal entries exploring who they were and who they have become.
Download the Full Prompt
Copy the Google Doc
Memory Map
Students design a map or blueprint of their school. They mark where significant moments happened in the last year and choose one moment to describe in writing. (You can adapt this prompt to home and remote-learning environments.)
Download the Full Prompt
Copy the Google Doc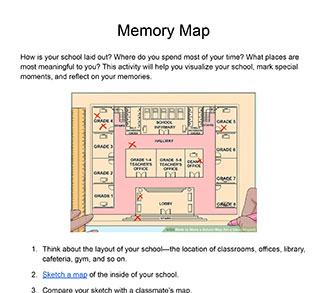 The Year in Movies, Music, and More
Students turn into pop culture critics. They review a memorable song, book, show, movie, dance, or fashion from this school year.
Download the Full Prompt
Copy the Google Doc
30 Moments I Don't Want to Forget
Students think beyond "big" memories to discover meaning in ordinary moments and details. They identify 30 memories from the last year and write about some of them in letters to their future selves.
Download the Full Prompt
Copy the Google Doc

Teacher Support
Consider this support as you introduce the prompts.
Level
4–12
Learning Objectives
By responding to these prompts, students will . . .
Reflect on learning and experiences.
Write routinely for authentic purposes.
Compose with multimedia.
Build identities as writers.
Reflect on their personal identities.
Create artifacts of grade-level experiences and learning.
Note: Some prompts will fulfill additional genre-based objectives.
Teaching Tips
Adjust the prompt's language of instruction to meet the needs of your students.
Adapt the activities as needed for remote learners. For instance, have learners create a map of their home or neighborhood in the "Memory Map" activity.
Set aside a day each week for fun, low-stakes writing. That way you can continue your curriculum but also highlight the joy of writing. (Fridays are great days for this.)
Use these activities to help students gain a sense of closure as they transition to a new grade level or learning environment.
Make time for students to discuss their work with each other and the whole class.
Utilize the extension activities at the end the prompts, which introduce larger projects the prompts may inspire.
Check out these wonderful digital discussions from education rockstars Penny Kittle and Kelly Gallagher, who inspired many of the above activities.